MESSAGE FROM THE DIRECTOR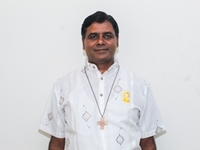 Home, School, Playground, and a House of God was Don Bosco's vision of an Oratory. A place where one comes to learn, relax, exercise, and a place where one feels at home is what the Oratory of Don Bosco Panjim is all about. At this Salesian institute, we are committed to promoting good behaviour and a safe environment enriched with an opportunity to build oneself into holiness.

The pandemic may have taken away contact sports from us but I am happy to present that the game is not lost, it is just that the field is changing. DBO is proudly presenting its new digital platform to come and access the grounds. Book your space on the basketball court, the badminton court, and the table tennis board at the comfort of your home. And yes! The much-awaited upgrade to a turf ground almost comes to an end. We will shortly be opening up the bookings of the futsal grounds to small groups that would like to come and play. All in keeping with the protocols of the pandemic.

My dear young friends, Don Bosco said, "It's for you I study, for you I work, for you I live, for you, I am ready to even to give my life." It's the same unction with which I claim that all that we do at DBO is for you ... all because we love you the way our father and founder loved the young. It is the same commitment to providing good sporting knowledge, skills, abilities, attitudes, and discipline in the varied activities that the Oratory is going to offer.
A request to Our
Parents to keep in touch with us for better communication and direct information with regards to the various programmes.
Past pupils of the institute and of the campus - Come back to relive those moments and to burn away those extra carbs.
Young people - You are the reason for which we exist. Come be a part of this magic called Don Bosco.
Run, Jump, Play but Do Not Sin!
Br. James Marcus sdb
DIRECTOR