DON BOSCO ORATORY: The Vision Unfolds

The Don Bosco Oratory that began on the night of April 4-5, 1946, is the premier activity of the Salesians of Don Bosco in Panjim, Goa. The Oratory belongs to the worldwide Salesian society present in five continents and 133 countries dedicated primarily towards education and youth development. It was begun here by the very first Salesians - Rev. Fr. Scuderi and Rev. Fr. Carreno - who stepped on Goan soil.

Its aim is the same as that of its founder Don Bosco. He desired that it fulfil a four­-fold mission towards youth; especially the less fortunate, poor, and abandoned. It was to be a Home, School, Church, and Playground. In this way, the Oratory strives to offer every youngster the possibility of complete and harmonious development, so that he/she can grow towards becoming a responsible and active member of society.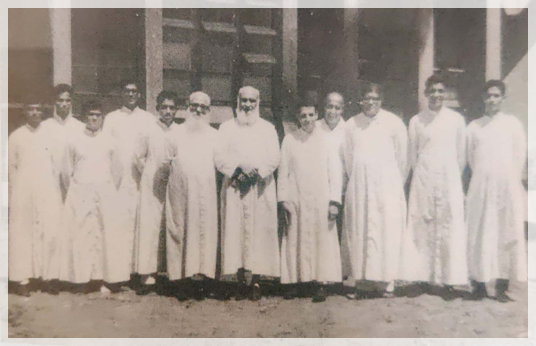 For many, the word Oratory may simply mean a recreation hall. For every Salesian, however, it is not just a place of recreation but rather an ambience that fosters variety, creativity, excellence, unity, and above all, spirituality.

On January 26th, 1888, Don Bosco lay dying. Cardinal Cagliero arrived at the Oratory and went straight to Don Bosco's bedside. Don Bosco was in great pain and only partially conscious. He looked to this, his favoured son. "Save many souls. wherever you are," he whispered. Such was the heart of this great man that even on his death bed he was interested in the spiritual development of youth in every one of his institutions. This is the dream shared by every Salesian, who can only seek to fulfil it in an Oratory developed according to the mind and spirit of its founder, Don Bosco.
FACES WE CANNOT FORGET
Fr. Vincent Scuderi - (1946 - 1952) A born leader of Italian origin, whose missionary zeal brought him to Assam. The situation of war groomed his tough spirit in concentration camps. He founded the Oratory with meagre resources, yet a dynamic Salesian spirit.

Fr. Joseph Carreno - (1952 - 1960) A man with a large heart and broad vision. His austere Salesian Spirituality found its own windows of compassion for the poor and needy youngsters. He built the Oratory, gave it a place, and that much-needed initial vision.

Fr. Cajetan Lobo - (1946 - 1963) He was the headmaster for many years and also looked after the Oratory. A person with exceptional affinity to the poor. Many poor boys used to gather around him, and he would never deprive them of the football they loved so much.

Fr. Edward D'Souza (1970 - 1974) The untiring personality that helped the Oratory reach its glorious peak. In simple but numerous ways, he attracted and gathered youth with activities such as fetes, sports, music, tournaments, picnics recollections, stalls, bands, beat-groups, choirs, etc. It was during his tenure that the Oratory Football team played in the senior division and participated in the Rovers Cup.

Fr. Benedict Furtado (1978 - 1984) An ardent lover of Sports, and founder­ member of the Basketball Association of Goa. He encouraged many in this sport and one may not be wrong if they were to attribute the beginnings of Basketball in Goa to him.

Fr. Joe Braganza (1981-1983) Strove hard to organise tournaments and uphold the dynamism of the Oratory. His efforts to participate in the various tournament and events have paid rich dividends.

From L to R: Fr. Pamparel Thomas (2), Fr. Alban D'Mello (4), Fr. Benedict Furtado (5), Fr. Vincent Scuderi (7), Fr. Casti (8), Bro. Kenneth Sequeira (9), Fr. Victor (10), Fr. Edward D'Souza (11) & Fr. Vincent Rasquinha (12)
OUR VISION
Inspired by Don Bosco's vision of an oratory to be a school, a home, a playground, and a place of prayer and worship.
OUR MISSION
To provide a serene and healthy ambience for organized recreation and entertainment.
A place of professional training in different sports facilities, human growth, cultural music, and theatre.
To offer periodic formative programmes for an all-round human and value-driven Christian formation.
To discover and develop varied talents among youth and give them a platform to excel in the field of their choice.
In the spirit of Don Bosco, the Oratory always served as a home for the youngsters where they would learn, develop and grow. Hence those responsible will strive likewise to maintain the same spirit, to give back to society what they in turn have received from it for the benefit of growth and development of youth in every generation.
NOW
The Oratory has now entered a whole new phase with the Salesians bringing about a vast amount of upgrades over the years. A phase that seeks to meet the needs of the locality, bearing well in mind the changing historical times. Don Bosco Oratory in the first fifty years of existence has focused on children and youth from the neighborhood in providing for their development both physically and spiritually through leadership and sports-related activities. From its humble beginnings at the Provedaria, just adjacent to it, to the sprawling campus today, it itself is a witness to the hand of God and Don Bosco in this mission.

The new complex of the Oratory was built in January 2000 with adequately equipped recreational facilities such as spacious grounds – Football, Basketball, Cricket pitch, Volleyball, and Indoor facilities – Basketball, Volleyball, Badminton, Table-Tennis, Carrom, Auditorium Hall, Music Rooms, Counseling Rooms, Conference Hall and other allied facilities.

With much advancement of the overall campus infrastructure, the Oratory is now proud to announce the development of its three artificial football turf grounds with one of the finest state-of-the-art facilities in Goa. It also houses a lawn tennis court for the purpose of regular coaching and is open to visitors for personal training. A walking track is also set up so the young and old alike can utilize the space for their leisurely walks.

The Oratory has also made attempts to register its various activities under the various Sports Associations and Government bodies. 'Oratario Salesiano' as it was known then is now called the Don Bosco Oratory Sports and Cultural Youth Club, Panjim which is a registered club under the Societies Registration Act, 1860. It is recognized and approved by the Sports Authority of Goa and is duly affiliated to the associations like the Goa Football Association, Goa Basketball Association, Goa Table Tennis Association, Goan's Hockey, and Special Olympics Bharat Goa to name a few.

For the last 20 years, Don Bosco Oratory has been organising regular coaching classes in the field of Sports, Dance, Art, and Music throughout the year. There are over a thousand individuals ranging from age groups 5years and above who have frequented the Oratory from all over Goa for the purpose of training and development. The Oratory has always embraced people of all ages irrespective of religion, cast,e and creed. The Don Bosco Oratory organizes a host of sports and cultural events annually of which its prime activity is the DBO Summer Camp. Other such annual events include the DBO Futsal tournament, DBO Basketball Tournament, DBO Table Tennis Tournament, DBO Marian Day, and so on.

Persons who wish to play regularly at the Oratory have to subscribe to the Oratory Pass. The pass holders will be allowed access to sports facilities like basketball, table tennis, badminton, and football. The Oratory pass can be availed on a yearly, half-yearly, or quarterly basis. Every pass holder is only allowed to use the facilities he or she has signed up for.

The Oratory as a part of its outreach support strategy has initiated a few series of programs where talents are fostered, giving due importance to the personal growth of individuals. Some of these initiatives include counselling services offered by the Oratory to help those in need of professional guidance; neighborhood apostolate to encourage the overall wellbeing of underprivileged kids around the neighboring areas, and spiritual direction to those who attempt to deepen their relationship in matters of divinity and spirituality. The Oratory ensures that all these services are delivered by highly trained and qualified resource persons so as to maintain qualitative standards.

The Oratory has its own youth group that assists in its various events and is also a part of the overall Panjim province youth group. The group is formed by youngsters between 18-35 years of age giving their selfless dedication to the oratory and its operations. Fun-based activities, leadership training programs, and spiritual events are organised by the youth and for the youth to keep them well connected and become pillars of society.

The Don Bosco Oratory as a whole is a hub for youth activity and has carved a niche for itself as a platform for youth leadership and development.